Looking for a quick and easy Keto pizza recipe? 
Then you'll love this delicious Pizza Chaffle which will be ready to eat in under 15 minutes!
For those not familiar with a 'Chaffle', it's essentially a mini waffle made from cheese ingredients – which makes it low carb, Keto friendly, and a great substitute for traditional bread.  I first considered buying a Mini Waffle (Chaffle) Maker months ago after seeing what seemed like a crazy epidemic of Chaffle posts online.  But my Chaffle dream quickly ended in vain when I checked Amazon and realized they were temporarily sold out. I  convinced myself they were probably all hype and couldn't possible be as amazing as everyone said they were.  But every now and then, I'd see yet another Chaffle recipe and have a renewed curiosity for those Keto mini waffles.
Fast forward to this past weekend, I was roaming the aisles of Target and found myself staring at a 4" Dash Mini Waffle Maker.  It was so much smaller than I imagined, but so cute, and I felt instantly compelled to buy  one.  So I did – I threw in the towel and made the much-awaited Chaffle purchase!  
My first attempt at the Chaffle was admittedly disappointing.  I attempted a grilled cheese Chaffle and it came out slightly burnt and misshapen.  I was staring at my Chaffle creation and debating whether it was a success or failure when my husband walked in.  He took one look at the Chaffle, starting laughing uncontrollably, and immediately posted a photo to the 'ShittyFoodPorn' group in Reddit!  Hahah I guess I had my answer =)
Since then, I've been on a path towards Chaffle redemption and I'm proud to say I now have it down to a perfect science!  And yes, I suppose that means I've now joined the Chaffle Revolution!  
With that, I present you with a super easy Chaffle recipe – the Chaffle Pizza – which will be ready to eat in less than 20 minutes.   Please follow the recipe steps below for the rest!  [Note: that some who eat Chaffles for the first time complain about the slight 'eggy' taste.  I find that using some Everything Bagel Seasoning is all you need to mask that flavor.  If you don't have any already, it's available here on Amazon.]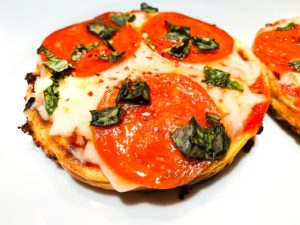 If you love this Pizza Chaffle recipe, please share with your Keto friends on social media!
p.s. If you're one of the less fortunate ones who still doesn't own a Chaffle maker, you can get your Dash Mini on Amazon now by clicking right here!  If your Dash mini hasn't arrived yet but you're craving pizza,  this Keto Fathead Pizza is another great alternative for the Pizza Chaffle.
Keto Pizza Chaffle
October 22, 2019
: 1-2
: Easy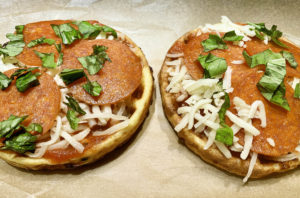 Ingredients
1 Large Egg
1 Cup of Shredded Mozzarella
6-8 Slices of Pepperoni
3 Tbsp of Pizza Sauce (No sugar added!)
1 Tbsp of Almond Flour
1 tsp. of Everything Bagel Seasoning
Basil (Optional to Garnish)
Hot Chili Peppers (Optional to Garnish)
Directions
Step 1 Preheat the Chaffle maker.
Step 2 Crack the egg into a small bowl and mix with 1/2 cup mozzarella (setting aside the other 1/2 cup of mozzarella for toppings), almond flour, and everything bagel seasoning. This mix will make 2 Chaffles.
Step 3 Pour 1/2 the mix into the pre-heated Chaffle maker and allow to cook for 4 minutes
Step 4 Remove the Chaffle and repeat by pouring the other half of the mix into your Chaffle maker and cooking for 4 minutes
Step 5 Spread pizza sauce onto each Chaffle (approx. 1.5 Tbsp for each), then top with remaining shredded Mozzarella cheese and sliced pepperoni. Warm in toaster oven for 3-5 minutes or until cheese melts. Alternatively, you can microwave them for 30 seconds until cheese melts.
Step 6 Garnish with basil, hot chili peppers, or the seasoning of your choice!
Interested in more easy Keto recipe ideas?  Take a look at my Recipes page.  Follow us at Facebook.com/KetoHealing so you don't miss out on our latest recipes.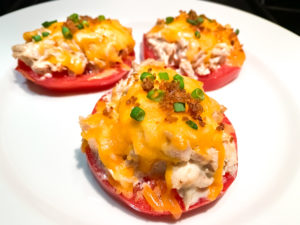 Can't remember all the Keto rules?  This Keto cheat sheet has EVERYTHING you need to know.  Get yours now at KetoHealing's Etsy Shop.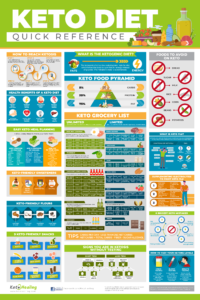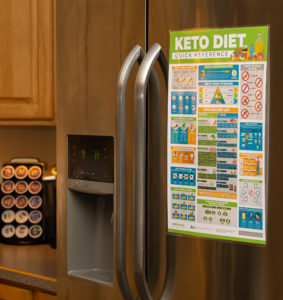 Looking for more Chaffle recipes?  Get KetoHealing's Printable Keto Chaffle Recipe List to display right on your fridge!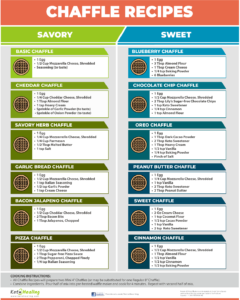 Need help getting started on Keto?  Take a look at my How to Get Into Ketosis post for getting started tips, grocery lists, easy meal planning and more!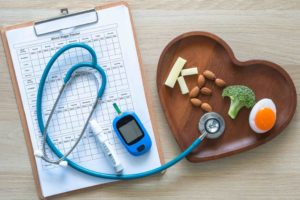 Enjoy KetoHealing? Join us on social media!!