If there's a single meal I really miss on the Keto diet it's PIZZA.   I've definitely had my moments of weakness where I've ordered Dominos delivery, literally pulled all the cheese and pepperoni off the crust, and thrown the rest of the pizza away (Crazy I know, my husband and I jokingly call this a 'pizza massacre').  But this approach is a waste of food and money.
So fortunately, I've since discovered the Keto 'FatHead' Pepperoni Pizza.  What's a FatHead Pizza?   Fathead pizza is a low carb / keto pizza dough made from 4 simple ingredients:  mozzarella, cream cheese, egg, and a low-carb flour (either Almond or Coconut flour are most common).  I've tried both variations of the flour and personally I can't warm up to the coconut flavor in pizza, so I prefer the Almond flour version.  That said, if you prefer to use Coconut Flour, just substitute 1/3 cup of coconut flour instead of the almond flour.
Before you start, make sure that you have a pizza stone or a cast iron pizza pan.  You can also use a regular baking pan, but your crust won't be as crispy. Below is a picture of the one I use; you can find these on Amazon if you don't already have one.  
Also make sure that when you choose a pizza sauce, you select one with no added sugars like this one here.  And as always with Keto, make sure you purchase the full-fat mozzarella, not a low-fat or no-fat version.
If you do this right, your pizza will look, taste, and have similar texture as the real deal.  You'll find the Fathead dough pizza extremely filling – I've never been able to eat more than a couple small slices.  And you'll have an easy Keto dinner that will curb your pizza cravings. Hope you enjoy!
If you liked this recipe, please check out my other fantastic Keto Dinner Recipes here.
Keto Fathead Pepperoni Pizza
November 8, 2019
: 3-4
: Easy
Ingredients
FATHEAD DOUGH:
1 1/2 cups Shredded Mozzarella
3/4 cup of Almond Flour
4 oz Cream cheese
1 Large egg
1 Tbsp. Baking Powder (NOT Baking Soda)
1/4 Tsp. Garlic Powder
1/4 Tsp. Italian Seasoning
1/4 Tsp. Salt
PIZZA TOPPINGS:
Shredded Mozzarella Cheese
Pizza Sauce
Pepperoni
Directions
Step 1 Preheat oven to 425 degrees.
Step 2 Place the mozzarella cheese and cream cheese into a medium sized (microwave safe) bowl and microwave for a minute, stir thoroughly, and return to microwave for an additional 30 seconds.
Step 3 Stir melted cheeses together evenly and then allow to cool (this step is very important before you mix in the egg).
Step 4 In a separate bowl, combine the almond flour, baking powder and seasonings and mix evenly.
Step 5 Combine the egg and the almond flour mix to the cooled cheese blend and continue to fold together until you have a smooth doughy texture.
Step 6 Line the pizza pan with parchment paper. Wet hands and spread the dough thinly into a round pizza crust shape. Alternatively, if you have a pizza roller, I recommend placing the dough between 2 sheets of parchment paper, and then using the roller to spread out the dough (it's much less messy and far easier to spread the dough evenly).
Step 7 Use a fork to poke holes throughout the pizza crust. This step is important to avoid getting bubbles as the crust bakes.
Step 8 Bake in pre-heated oven for approximately 8 minutes. Check for any bubbles – and if you see any – use your fork to poke holes and deflate them. The pizza should be firm to the touch and slightly browned.
Step 9 Remove from oven and add your favorite toppings – pizza sauce, mozzarella cheese, pepperoni and whatever other toppings you prefer.
Step 10 Return to oven and bake for another 8 minutes (or longer if needed) until cheese has melted. Remove from oven and enjoy your Fathead Pizza!
Interested in more easy Keto recipe ideas?  Take a look at my Recipes page.  Follow us at Facebook.com/KetoHealing so you don't miss out on our latest recipes.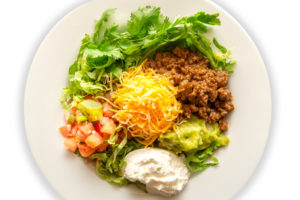 Can't remember all the Keto rules?  This Keto cheat sheet has EVERYTHING you need to
Can't remember all the Keto rules?  Our one-of-a-kind Keto Cheat Sheets have EVERYTHING you need to know to help you get started.  Now Available for sale on Amazon and at KetoHealing's Etsy Shop.    Conveniently sized to display right on your refrigerator door.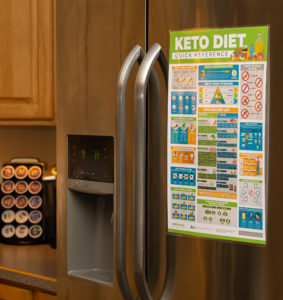 No time to prep a meal?  See below for some easy snacks or refer to my 28 Easy Keto Snacks on the Go post for more ideas.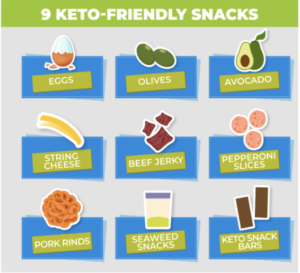 Need help getting started on Keto?  Take a look at my How to Get Into Ketosis post for getting started tips, grocery lists, easy meal planning and more!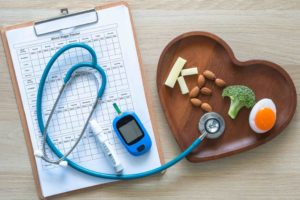 Enjoy KetoHealing? Join us on social media!!