The first few weeks I started keto, I also had what seemed like CONSTANT hunger cravings as my body adapted from burning glucose to burning ketones.  My blood sugar levels were on a rollercoaster ride, and while I had started tracking my carbs, I still hadn't gotten it right.  I was in ketosis but not fat-adapted (refer to my separate post on this topic Ketosis vs Fat Adapted- What's the Difference?) and I felt extremely hungry – all the time!! I was  prepared with meal prep at home, but as soon as I left the house or travelled or got caught up at work late, I often found myself in a panic to find an easy keto snack. 
And while there's no shortage of online posts about Keto recipes or Keto meal plans, there is very little information about something so basic…Keto snacks!  That is, until now. 

Since then, I've identified my Go-to Keto Snacks which has helped make it easy to remain committed to the diet.  Some of these you may be able to find at your local grocery store, but if not I've included links to order them directly on Amazon.  
I will also share that now that I'm fully fat-adapted, I don't feel the need to snack anymore like I used to.  I can go much longer periods of time between meals without any issues.  So hang in there, this is temporary!  
Sidenote: Yes, the 'Keto police' may warn you that there's no reason to snack on Keto, but the reality is many of us can't make it through the initial transition without the crutch of some snacks.   And I strongly believe indulging in a Keto-friendly snack while staying under your daily Net Carb limits is the lesser evil than abandoning Keto.

Here are my Top 28 Go-to Keto Bites on the Go:
(Note: KetoHealing is a participant in the Amazon Services LLC Associates Program, an affiliate advertising program and may earn a small commission through your purchase):
1) Moon Cheeses – The first time I saw these, they were at Starbucks and at $5 a bag I was sorry I found them.  They're addictive but also satisfying – with a similar taste to Cheeze-its but without the Carbs. Fortunately, Amazon sells them for cheaper.
2) Whisps – Ok so #1 was cheese, and ranking in just below as my #2 Keto snack is ALSO CHEESE:  Whisps!   I love dipping Whisps in cream cheese or whatever flavored dip is around that requires a chip alternative.  Costco carries these too but I've found Amazon offers more flavor varieties.
3) Pork Rinds – It was hard for me to accept the funky smell of these initially, but I quickly warmed up to them as a nice salty / keto-friendly go-to snack.  I recommend dipping them in cream cheese.
4) Keto Cups – Extremely satisfying, this snack is the perfect fat bomb for Keto dieters. Try the coffee flavor – highly recommended!  In case you're wondering, no these cups don't quite have the same taste or texture as a Reeses Peanut Butter Cup (although if you're craving a Reeses you should check out my super-easy Keto Peanut Butter Mousse Recipe).   
5) Roasted & Salted Almonds – Another great snack which is high in potassium and salt, both of which are electrolytes that are critical when you're on keto.   
6) Beef Jerky – With a great balance of fat and an adequate amount of protein, beef jerky is a must-have snack to keep on hand.  Go for the grass-fed varieties like this one, as they'll have more nutrients.
7) Keto Bars – The perfect balance of fat, protein and carbs in a convenient snack bar – available in coconut, peanut butter, and chocolate cookie dough.
8) Seaweed Snacks – A light snack with a salty crunch; this seaweed snack will replenish your electrolyte needs.
9) Oloves Natural Pitted Olives – Olives are extremely nutritious, high in fat, and low-carb making them a perfect grab-and-go snack to meet your Keto needs while also boosting your electrolytes.  These 'Oloves' come in a variety of flavors: Basil & Garlic, Chili & Oregano, Lemon & Rosemary, & Chili & Garlic.  These are a must-have, highly recommend!
10) Quest Bars – Yes, it takes a bar or two to adjust to the texture, and no it won't actually resemble anything close to the mouth-watering picture on the label, but that said, I've come to really appreciate the Quest Bars.  They're filling, tasty, and you can pick them up pretty much anywhere if you're in a jam – Wawa or your local convenience store.  Packed with protein and only 4-5 Net Carbs per bar.  Try the Caramel Chocolate Chunk or Birthday Cake flavors  – my personal faves.
11) SlimFast Fat Bombs –  These tasty little fat bombs are only 2 Net Carbs per bite.  No they don't taste like Reeses peanut butter cups, but they're still a decent Keto alternative when you're in the need for a low-carb energy boost.  Because let's face it – not everyone has time to make their own home-made fat bombs!
12) Fat Snax Cookies – Warning!  These are extremely addictive and the closest resemblance I've found to a regular cookie.   Each Fat Snax cookie comes in at 2 Net Carbs (so a pack of 2 Cookies is 4 Net Carbs).  I'm a big fan of the Chocolate Chip but these are also available in Peanut Butter and Lemony Lemon.  The downside – they're not cheap, so eat in moderation!
13) Low Karb Keto Nut Granola – A healthy Keto low carb snack, this granola contains only 3g Net Carbs. It can be eaten right out of the bag or add a little Heavy Cream and eat it as a low carb cereal alternative.
14) Justin's Almond Butter Packets – This snack comes as individual squeeze almond butter packets, perfect to eat directly or with a little celery.  Just make sure you stick to the Classic variety only, as the other flavors have too much sugar to be Keto-friendly.
15) KetoLogic Keto Krisps – These are similar to Whisps – a crunch cheese snack – except they're available in some more extra fun flavors.   I've only tried the Buffalo so far and was a big fan, but looking forward to munching on their Pizza and Chili Lime flavors next.  These Krisps come in at only 1 Net Carb per serving.
16) HighKey Snacks Keto Mini Low Carb Cookies – These delicious mini cookies are only 1 Net Carb and made with natural ingredients like almond flour, coconut oil, and collagen. The downside – they're really little so you might tear through the bag fairly quickly.
17) SlimFast Keto Meal Replacement – Sometimes you can't beat the convenience of a meal replacement.  This is the perfect Keto snack or liquid lunch for anyone on the go – the flavor gets mixed reviews but the price is reasonable compared to other low-carb protein drinks. 5 grams of Net Carbs per serving.
18) Ayoba-Yo Biltong – If you're not familiar with Biltong, it's essentially a more tender, less chewy alternative to beef jerky.  This snack is an easy way to get quality grass-fed protein in a convenient resealable bag.
19) Parmesan Cheese Crisps – Eat these on their own as a quick snack, or pair it with your favorite cheese spread. Available in Jalapeño (my personal favorite), Onion/Poppy/Garlic, and Original flavors.  A great Keto option with less than 1 Net Carb.
20) Quest Protein Chips – This crispy and crunch snack is the closest Keto non-potato alternative I've found to regular potato chips.  They're only 3g of net carbs per serving and come convenient single-serve bags with BBQ, Cheddar & Sour Cream, and Sour Cream & Onion flavors.   
21) Oh Snap! Fresh Pickle Bites – These sliced Pickle bites are the perfect way to satisfy your pickle fix while on the go.  I find that getting an adequate amount of electrolytes is critical to avoiding keto flu, and one easy way to do that is to simply eat more pickles.   And to top if off, they have 0 Net Carbs! Can't beat that as a Keto snack.
22) Quest Protein Cookie – I've become an avid fan of the Quest bars, and so I'm glad their cookies don't disappoint.  They're soft, sweet, and chewy, coming in at 5g Net Carbs per cookie in your choice of 6 fun flavors:  Snickerdoodle, Chocolate Chip, Double Chocolate Chip, Peanut Butter, and Oatmeal Raisin.
23) Keto Trail Mix – Ok I get it, cheese snacks can get boring on their own.  But that's why this trail mix is a great alternative to mix up your snack routing.  It consists of crunchy cheese, salted nuts and your choice of Bacon Cheddar,  Spicy Jalapeno, or Sweet Strawberry flavors.  Can't decide?  Try all 3 flavors in their variety pack.  At only 3 g Net Carbs per serving, this is a great healthy keto snack option.
24) Nature's Garden Keto Snack Mix – Looking to try another trail mix? This one is a fun combo of cheddar cheese puffs, almonds, pepitas, pecans, and macadamia nuts.  If you're tracking your macros religiously, you may prefer this one over the brand above as it comes in slightly lower at only 2 g Net Carbs.
25) FBOMB Nut Butter – The star of this FBOMB snack are the nutrient dense Macademia nuts – making them a perfect snack bomb for those who need a quick energy boost.  These nut butters come in a variety of blends (Salted Chocolate & Macademia, Macademia & Pecan, among others).  And the best part?  Only 1g Net Carbs despite all the deliciousness.  Just tear off the top of the packet and enjoy!
26) HighKey Snacks Keto Instant Hot Cereal Breakfast – It was really great to find this low-carb/ Keto alternative to traditional oatmeal.  This gluten-free, grain-free cereal is made from a mix of hemp, chia, flax, sunflower seeds, and coconut and it's got a familiar taste and texture of a hot cereal breakfast.  All you need is a little hot water and this quick snack will keep you full for hours.
27) Keto Soup – This is an on-the-go Keto-friendly soup for those looking for a healthier snack option.  Bone broth is a great natural way to boost your electrolyte levels.  These soups are made with organic veggies and come in multiple flavors:  Broccoli Cheddar, Mushroom Bisque, Spicy Cauliflower and more.  They're only 2-3g Net Carbs per serving, but watch out because there's 2 servings per container.
28) Keto Friendly Snacks Gift Package Ok fine, this one isn't a snack but rather a HUGE SET of snacks.  This is perfect as a gift or to prep for an upcoming trip.  Every snack in this pack comes in at 5 net grams of Carbs or less.
And there you have it – your 28 Keto snacks on the go.  Hope you enjoy trying these out! But before you go, check-out these other KetoHealing resources:
Can't remember all the Keto rules?  This Keto cheat sheet has EVERYTHING you need to know about Keto.  Get yours now HERE on Amazon. 
Need some easy Keto recipe ideas?  Take a look at my Recipes page.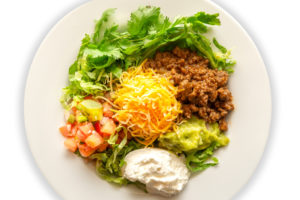 Don't want to miss out on new Keto recipes, tips, or tricks?  'Follow' us on facebook at Facebook.com/KetoHealing.
Enjoy KetoHealing? Join us on social media!!