If you'd like to incorporate more healthy fats into your Keto diet, you'll love this simple Keto Avocado Egg Salad recipe!
This Keto Avocado Egg Salad is not only delicious, simple, and affordable, but it's also packed with protein and healthy fats making it an excellent Keto low carb lunch.  It's easy to get tired of eating plain old scrambled eggs on Keto, and Avocados can be equally boring to eat on their own.  And that's why this recipe is perfect – it's a fun and delicious twist that combines both of these Keto food essentials!
[Sidenote: Another awesome way to 'make eggs great again!' is Deviled Eggs!  If you haven't tried them already, you should totally try out my amazing Deviled Eggs Recipe here!]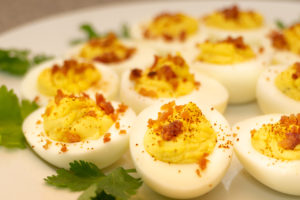 Now let's get back to the Keto Avocado Egg Salad!  I used 6 eggs for the egg salad which makes 2 stuffed avocados (four halves).  If you're prepping this recipe for one, just adjust the ingredients accordingly (by cutting all the quantities in half).
For your first step, you'll need to make the hard boiled eggs.  I used my egg cooker this time, which is a kitchen staple in my house.  You can make hard boiled eggs in a traditional pot of course, but it's literally SO much easier with the egg cooker.  You can set it and forget it and they're done in minutes and cooked PERFECTLY every single time.  No more wasted overcooked or undercooked eggs!  This is the one I have if you're interested:
That said, if you're making your own hard boiled eggs it's important to cook the egg right. I've had the most success by adding the eggs to the pot FIRST.  Then add enough water to the pot so that the eggs are covered by at least an inch of water.  Turn on your stove to high heat and bring the pot to a boil, then immediately shut off the heat and cover the pot with a lid.  Leave the covered pot on the stove (without the burner on) and allow to sit for 10-12 minutes.  Exact time will depend on the size of your eggs, larger eggs may take slight longer than smaller eggs.
Remove pot from stove and drain out the water.  Stick the eggs in the fridge for a bit to allow them to cool, at least 20 minutes.
Now that your eggs are ready, follow the easy steps below to prepare your Egg Salad Stuffed Avocado.  Sprinkle with bacon bits when you're done (as an optional last step).  I hope you enjoy this recipe!
Keto Egg Salad Stuffed Avocado Recipe
January 9, 2020
: 2-4
: Easy
Ingredients
2 Large Avocados
6 Large Eggs (Hard boiled).
4 Tbsp of Mayonnaise
1 Tsp. of Mustard
1/2 Tsp of Horseradish Cream Sauce
1 Tsp of White Vinegar
1 Tsp of Chopped Scallions
1 Tsp of Dill
1/8 Tsp of Salt
Sprinkle of paprika
Sprinkle of bacon bits
Directions
Step 1 Prepare your egg salad by chopping up your eggs into small cubes. Add to a medium-sized bowl and then combine with your mayonnaise, mustard, horseradish cream sauce, vinegar, dill, and salt. Stir until mixed evenly.
Step 2 Slice your avocado in half and remove the seed, then scoop out some (but not all!) of the center to make room for the egg salad. Leave some avocado around the edges.
Step 3 Fill your avocado with the egg salad, then top it off with your sliced scallions and sprinkle with bacon bits and paprika as garnish (optional). Enjoy!
Interested in more FREE Keto recipe ideas?  Take a look at my Recipes page.  Follow us at Facebook.com/KetoHealing so you don't miss out on our latest recipes.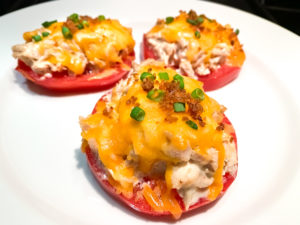 Can't remember all the Keto rules?  Problem solved! Our one-of-a-kind Keto Cheat Sheets have EVERYTHING you need to know to help you get started.  Now Available for sale on Amazon and at KetoHealing's Etsy Shop.    Conveniently sized to display right on your refrigerator door.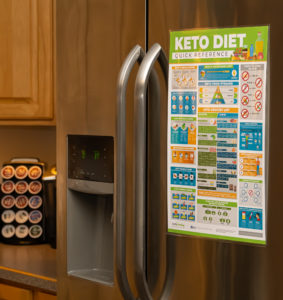 Need help getting started on Keto?  Take a look at my How to Get Into Ketosis post for getting started tips, grocery lists, easy meal planning ideas and more!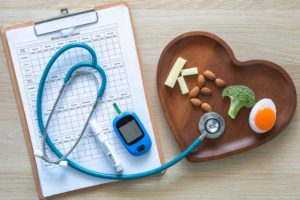 Enjoy KetoHealing? Join us on social media!!