Keto Broccoli Cheddar Soup for the Win!
Let's face it, when it's chilly outside there's nothing more comforting than having a nice warm bowl of Keto Broccoli Cheddar soup!  Admittedly it's been awhile since I've made soup at all, and while there's no shortage of Keto recipes on the internet, you rarely see many posts about Keto soup.   I've always loved Broccoli Cheddar soup growing up, but haven't come across a low carb version since I went Keto.  You'll find that most soups in traditional restaurants contain flour and starches, and thus aren't very Keto friendly.   
So when my husband was feeling under the weather today, it was the perfect opportunity to put my new Keto Broccoli Cheddar Soup to the test.  He doesn't eat Keto normally, so when I get his approval on a dish like this, I know it's a big hit.  This Broccoli Cheese Soup was ready in under 20 minutes and didn't disappoint!  We both dove in for seconds because it was DELICIOUS! 
And the best part, it was so simple to make!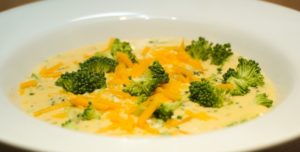 To make this soup, you'll just need some broccoli, shredded cheddar cheese, heavy whipping cream, chicken broth, a small onion, some garlic, salt, a bit of butter, and of course a pot. This recipe also calls for Xanthan gum which I was able to find at ShopRite, but if you can't find it locally, it's also available on  Amazon here.  For those not familiar with Xanthan gum, it's an ingredient commonly used as a thickener for sauces or gravy instead of flour. Although it's a bit pricy, a little bit of Xanthan gum goes a very long way!
But if you don't have Xanthan gum you can still make this soup and it will still taste great…the only difference is your Keto Broccoli Cheddar soup just won't be as thick.  Alternatively, you can try adding a bit more cheese to thicken the broth.  
Just follow the remaining steps below and let me know what you think.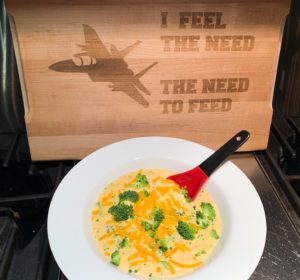 Keto Broccoli Cheddar Soup
January 1, 2020
: 4
: Easy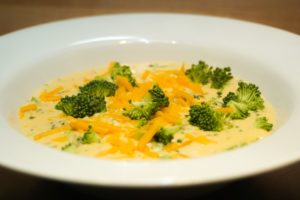 Ingredients
1 Cup of Broccoli, chopped
1.5 Cups of Chicken Broth
1 Cup of Heavy Cream
1 Cup of Shredded Cheddar Cheese
1 Tbsp of Butter
1/2 Small White Onion, chopped
2 Garlic Cloves, chopped
1/8 Tsp of Salt
1/2 Tsp. of Xanthan Gum (Optional, as thickener)
Pepper, to taste
Directions
Step 1 Chop up your broccoli into small pieces and set aside.
Step 2 Chop up a small onion and your 2 cloves of garlic.
Step 3 Set the stove to Medium-High heat. Melt the butter in your pot and toss in the onion, garlic, salt and pepper and allow to sauté for a couple minutes. Stir frequently until the onions are translucent.
Step 4 Next stir in the xanthan gum followed by the chicken broth.
Step 5 Combine your broccoli into the broth mix and cook for another 3 minutes, stirring periodically.
Step 6 Stir in the heavy whipping cream until blended. Bring to a boil to thicken, then immediately reduce to a simmer. Slowly add the cheddar cheese, stirring to combine evenly.
Step 7 Once cheese is melted, remove pot from stove and scoop soup into bowls to serve.
Step 8 Top off your soup bowls with a few extra shreds of broccoli and cheese (optional as garnish). Enjoy!!
Can't remember all the Keto rules?  Our one-of-a-kind Keto Cheat sheets have EVERYTHING you need to know.  Now Available for sale on Amazon and Etsy.    Perfect to display right on your refrigerator door.
Need help getting started on Keto?  Take a look at my How to Get Into Ketosis post for getting started tips, grocery lists, easy meal planning and more!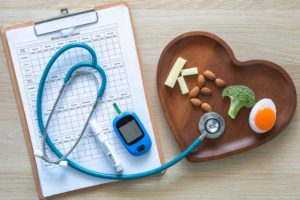 Enjoy KetoHealing? Join us on social media!!