O.M.G., these Keto Garlic Breadsticks are ready in 20 minutes and they're SO incredibly delicious that you'll forget you're even on a diet!

 

Who says Keto food has to be boring?! 
These amazing Keto Garlic breadsticks are best served dipped in a warm side of marina or pizza sauce.   I personally love Rao's Marinara Sauce which you can get here on Amazon, but feel free to use another sugar-free variety if you can find one at your local grocery store. Of course, you'll want to make sure you select a brand of sauce that has no added sugars to keep this appetizer Keto-friendly.
Aside from your sugar free Marinara sauce, this simple recipe for Keto Garlic Breadsticks calls for just some very basic ingredients – all you need is a cup of mozzarella cheese, half a cup of almond flour, one egg, a tablespoon of butter (melted), and of course the star ingredient – a little garlic powder =).    You can also top off your breadsticks with a pinch of parsley (optional as a garnish).  Note: the recipe quantities used below will make 4 Keto breadsticks.  
In terms of kitchen equipment, I used a baking sheet (here's a link to the small one I used which pops right into my toaster oven), a couple sheets of parchment paper (a must-have to ensure your dough doesn't stick to the pan) and a rolling pin.  Don't worry if you don't have a rolling pin, it just makes it easier when you're shaping the dough but your hands will work totally fine instead. 
Follow the remaining easy steps below for to prepare your Keto Garlic Breadsticks and enjoy this low carb tasty treat!  If you love this recipe and would like to receive more, please share it with all your Keto friends =)
Garlic-butter Keto Breadsticks
January 16, 2020
: 2-4
: Easy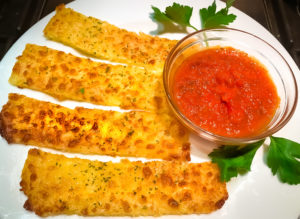 Ingredients
1 Cup of Mozzarella Cheese
1 Large Egg
1/2 Cup of Almond Flour
1 Tsp of Butter
1/2 Tsp of Garlic Powder
Pinch of Salt
Pinch of Parsley (optional, as garnish)
Directions
Step 1 Preheat your oven (or toaster oven) to 350 degrees.
Step 2 Mix together the mozzarella cheese, almond flour, 1/4 tsp of garlic powder, and egg in a bowl to make your batter.
Step 3 Scoop out your breadstick batter and place it between two sheets of parchment paper then take a roller to spread out the mix. Try to spread out the dough evenly, and keep it in a square shape to make it easier to cut into equally-sized slices. Alternatively you can spread the dough with your hands if you don't have a rolling pin.
Step 4 Remove the top layer of parchment paper once you've rolled out the dough. Transfer to a baking pan (you can keep the bottom layer of parchment paper to prevent sticking.
Step 5 Melt your butter, 1/4 tsp of garlic powder, and a pinch of salt in the microwave for 30 seconds (or heat on a stove at low heat until melted). Set aside.
Step 6 Bake for 15 minutes at 350 degrees, or add an optional couple more minutes if you prefer crispier breadsticks.
Step 7 Remove your breadsticks from the oven once done, then brush your buttery topping on the side of the breadsticks. Add some optional parsley garnish if you prefer.
Step 8 Slice into 4 portions of bread sticks.
Step 9 Served best with some warm marinara or pizza sauce on the side. Enjoy!
Interested in more FREE Keto recipe ideas?  Check out my Recipes archive!   'Like' us at Facebook.com/KetoHealing so you don't miss out on our latest recipes.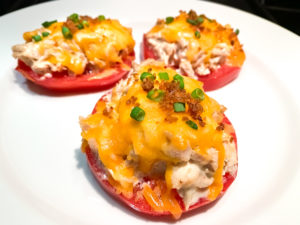 Can't remember all the Keto rules?  Our one-of-a-kind Keto Cheat Sheet mini fridge posters have EVERYTHING you need to know.  Now available HERE on Amazon or at KetoHealing's Etsy Shop.
You may also love our Keto Diet Printable Bundle Pack featuring our Keto best sellers, available as instant digital downloads exclusively at KetoHealing's Etsy Shop.
Need help getting started on Keto?  There's no better place to start than our How to Get Into Ketosis post for getting started tips, grocery lists, easy meal planning and more!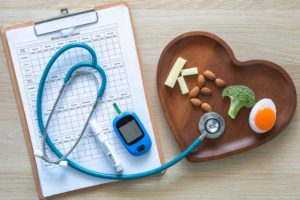 Enjoy KetoHealing? Join us on social media!!