The Keto Shrimp Caesar Salad is an easy low carb meal that can be prepped well in advance, making it a perfect option to bring to work or as a quick dinner.  It's so simple, and one of those handful of meals that you can make pretty frequently without getting tired of it. Just chop up some romaine lettuce (ensure it's washed/drained well), add a  generous helping of parmesan cheese, and toss in some Caesar salad dressing.  While you can make your own dressing using a recipe such as this one , I find the bottled version more convenient.
Here's the dressing I used for this Keto Shrimp Caesar Salad:
Yes, there's a minuscule amount of cornstarch in this dressing, an ingredient some following strict Keto may choose to avoid, but at <1net Carbs per serving (of 2 Tbsp) this salad dressing is safe to consume and remain in ketosis. If you select another Caesar salad dressing, just remember to check the label to ensure there's no added sugars.  Always check the carb count of all condiments/ dressings!
Aside from selecting the dressing, you'll be topping off your Keto Caesar Salad with some shrimp to get some protein. You can either buy the precooked variety, or follow the steps below to cook raw shrimp.  Just remember to peel and thaw the shrimp first.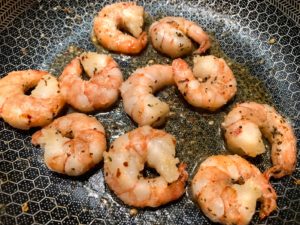 Croutons are of course off-limits for this salad to keep it Low Carb/ Keto friendly.  But if you're missing the croutons and would like a little crunch in your salad, just add a few Whisp Parmesan Crisps as a crouton substitute. 
Or a second alternative to add some crunch is to sprinkle your Keto Shrimp Caesar Salad with some Bacon Bits. 
Just follow the remaining steps in the recipe below and ENJOY!
Keto Grilled Shrimp Caesar Salad
December 11, 2019
: 1
: Easy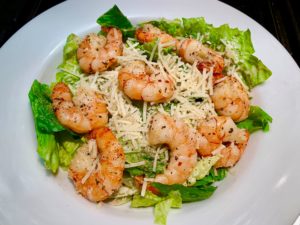 Ingredients
Approx. 8 Medium Shrimp (Thawed, peeled)
1 Cup of Romaine Lettuce, Chopped
2 Tbsp of Parmesan Cheese
2 Tbsp of Caesar Dressing
1/8 Tsp of Salt
1/8 Tsp of Garlic Powder
Pinch of Pepper
Parmesan Crisps (Optional - As Crouton substitute)
Bacon Bits (Optional - As Crouton substitute)
Directions
Step 1 Add chopped romaine, parmesan cheese, and caesar dressing to a bowl and toss.
Step 2 Melt a Tablespoon of butter in a skillet on Medium heat.
Step 3 Saute the shrimp in the pan and sprinkle with salt, pepper, garlic, and parsley seasoning.
Step 4 Cook for approximately 2-3 minutes on each side, then flip and repeat for the second side. The shrimp will turn a bright pink once fully cooked and the meat will no longer be translucent. Avoid overcooking the shrimp.
Step 5 Remove the shrimp from the heat, top off your caesar salad with the grilled shrimp, and enjoy!
Interested in more easy Keto recipe ideas?  Take a look at my Recipes page.  Follow us at Facebook.com/KetoHealing so you don't miss out on our latest recipes.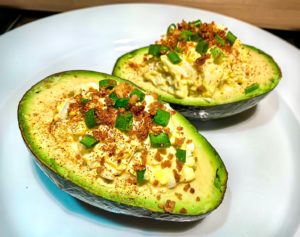 Can't remember all the Keto rules?  This Keto cheat sheet has EVERYTHING you need to know.  Get yours now at KetoHealing's Etsy Shop.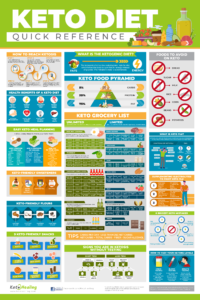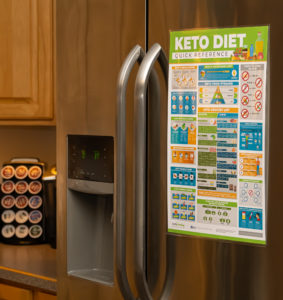 Need a little more inspiration?  You'll love these motivational prints at KetoHealing's Etsy Shop!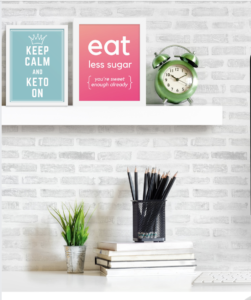 Want to model your Before & After Keto photos in style?  Check out these t-shirts at KetoHealing's Etsy Shop.  Available in multiple sizes and colors.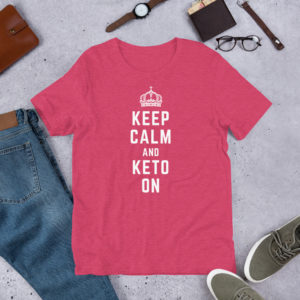 Need help getting started on Keto?  Take a look at my How to Get Into Ketosis post for getting started tips, grocery lists, easy meal planning and more!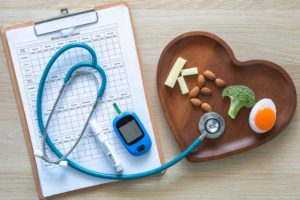 Enjoy KetoHealing? Join us on social media!!