Ready for this mouth-water Keto Pork roll sandwich?
It's only been a few days since I've become a proud owner of a Dash Mini Waffle maker, and I've quickly become a Chaffle addict overnight.  It's hard to believe I went so long on Keto without having one.
For breakfast this morning, I decided to make a Jersey Shore Classic:  The Keto-edition of the Pork Roll Egg & Cheese!  For those of you who may be unfamiliar with Pork Roll, it's just another name for Taylor Ham which is the brand-name of the product. Yes, there is a miniscule amount of sugar in pork roll, but it's such a trace amount that isn't enough to effect your state of ketosis.   If you're following strict keto or are overly concerned, then this recipe probably isn't for you.  But for the rest of you, please continue reading, as this meal will easily fit into your daily macros =)
So what exactly is the Jersey Shore Pork Roll Egg & Cheese Chaffle?!?  It's just what it sounds like – a fried egg with Taylor Ham Pork Roll and melted cheese sandwiched between 2 delicious Chaffles.  This breakfast sandwich is not only a perfect meal to start the day, but it's also just salty enough to help balance your Keto electrolyte needs.  Just follow the easy steps in my recipe below.
If you liked this Jersey Shore Pork Roll Egg & Cheese Chaffle, please check out my other fantastic Keto Recipes here.   Enjoy!
p.s. If you're one of the less fortunate ones who hasn't yet jumped on the Chaffle train, don't worry it's not too late!  You can get your Mini Waffle Maker on Amazon right here.
The 'Jersey Shore' Keto Pork Roll Egg & Cheese Chaffle
November 23, 2019
: 1
: Easy
Ingredients
2 Large Eggs (1 for Chaffle, and 1 to Fry to top your sandwich)
1/2 Cup of Shredded Mozzarella
2 Slices of Taylor Ham ('Pork Roll')
1 Tsp. of Almond Flour
1 Tbsp. of Butter
1 Slice of American Cheese
1 Tsp. of Everything Bagel Seasoning
Directions
Step 1 Preheat the Mini Waffle maker.
Step 2 Crack one egg into a small bowl and mix with 1/2 cup mozzarella, almond flour, and everything seasoning. This mix will make 2 Chaffles.
Step 3 While your first chaffle is cooking, heat a medium-sized pan on the stove and melt 1 Tbsp. of butter.
Step 4 Pour 1/2 the mix into the pre-heated Chaffle maker and allow to cook for 3-4 minutes (depending on how crispy you prefer your Chaffles). I always set a timer to ensure I don't overcook it.
Step 5 While your chaffle is cooking, cut a small slit in each pork roll from the center of the slice to the edge (don't cut it in half). (Note: The slit will give the pork roll a little room to stretch and allow it to lay flat as it cooks…otherwise it will bunch up and cook unevenly).
Step 6 Add both Pork Roll slices to the pan and fry for 1 minute on Medium heat, then flip and fry for another minute to cook the other side.
Step 7 Stack your 2 Pork Roll slices in the pan, and add your sliced of American Cheese to the pork roll, cover the pan with a lid, and allow to cook another 30 seconds or so until the cheese melts. Then remove Pork Roll from stove and set aside.
Step 8 By this time, your first Chaffle should be done. Remove the first Chaffle and repeat by pouring the other half of the mix into your Chaffle maker and cooking for 3-4 minutes
Step 9 While your 2nd Chaffle is cooking, crack your 2nd egg into the pre-heated pan and reduce heat setting to low. Add a sprinkle of Everything seasoning (or your seasoning of choice) to the egg.
Step 10 Fry the egg slowly until whites are set (not runny) and yolks begin to thicken, approximately 3-4 minutes. Slide a spatula under the egg and carefully flip it over in the pan. Allow to cook approximately 30-60 more seconds (depending on whether you prefer your eggs slightly runny or well done) then remove by tilting the pan slightly and carefully sliding a spatula underneath the egg.
Step 11 Now take your Chaffles and layer on the fried egg, Pork Roll and cheese to complete your 'Jersey Shore' Keto Pork Roll Egg & Cheese sandwich!
Can't remember all the Keto rules?  Our first-of-its-kind Keto Cheat Sheet has EVERYTHING you need to know to get started.  Now available at KetoHealing's Etsy Shop.
Looking for more Chaffle recipes?  Get KetoHealing's Printable Keto Chaffle Recipe List – featuring some of our favorite savory and sweet chaffles.  Available as a convenient digital download from Etsy.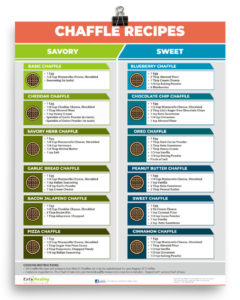 You'll also find these Chaffle Recipes in our Keto Diet Printable Bundle Pack featuring our best seller cheat sheets, available as instant digital downloads at KetoHealing's Etsy Shop.
Need help getting started on Keto?  Take a look at my How to Get Into Ketosis post for FREE getting started tips, grocery lists, easy meal planning and more!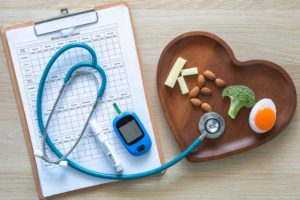 Enjoy KetoHealing? Join us on social media!!