The classic Keto Ribeye Steak is an excellent choice for those on the Keto diet – the ribeye being much higher in fat macros compared to other cuts of meat which makes it incredibly juicy AND delicious.  And nothing pairs better with this Keto Steak than this amazing broccoli and cheese side dish!
When I started Keto, I literally ate this meal a few times a week and never got bored of it.  It hit all my Keto macros, gave me plenty of energy, and left my belly feeling satisfied for hours.  After nearly a year and a half on keto, I definitely find myself branching out and trying more recipes.  But still NOTHING tops this Classic Keto Ribeye with Broccoli and Cheese dinner and it continues to be a staple meal in my house.
So let's talk about the steak first.  I recommend selecting a grass-fed ribeye because it has more nutrients than conventional meat.  Another  tip to a great ribeye is resting your steak at room temperature for about 20 minutes before you cook it.  This allows the meat center to warm up a bit which enables it to reach the right internal temperature quicker. 
Finally, the third (and most important) tip to a fantastic steak is seasoning it well on both sides – use pepper and a LIBERAL amount of salt (I use coarse Kosher salt for my steaks).  I repeat, don't be shy with the salt if you want a delicious steak!  Not only will it benefit the taste, but it's also a great way to get the extra electrolytes you need on keto as part of your diet.
Once your steak is seasoned, follow any of the 4 methods below to cook your steak.  Personally I prefer the outdoor grill option but not everyone has a grill.  It's also November and far too chilly here and in many parts of the country to brave the outdoors.  So here's your options:
Grilling: Preheat the grill to 450-500 degrees and then sear the steak until it gets a nice char, about 3 to 4 minutes on each side (for a medium-rare finish). If you like your steak more done, just cook the steak for a bit longer (5-6 minutes) on each side.
Broiling:

 

Broil a ribeye steak in the oven using a broiler pan until the steak browns, approximately 5 minutes per side.
Pan-Frying: This method involves cooking the ribeye on your stovetop in a pan.

 

I recommend a cast iron pan for this option because it reaches a higher temperature and cooks better compared to other pans. Toss a Tbsp of butter into the pan and then sear your steak for about 3-5 minutes on each side on Medium-High heat, depending on your desired wellness.

 

Note: If you don't already have one, Lodge is a great cast iron pan at an affordable price tag or if you want to go higher end I highly recommend Le Creuset.

 

(Caution: When using cast iron, keep in mind the handle will get VERY HOT – never touch it with your bare hands).
Skillet-to-Oven: Preheat your oven to 450 degrees.

 

Melt a Tbsp of butter onto your cast iron skillet on Medium-High heat to quickly sear the steak on both sides (for approximately a minute each).

 

Transfer your steak to the oven for about 3 minutes to finish cooking.

 

Both the Lodge and Le Creuset are safe to transfer from the stove to the oven which is one of the other reasons they work out great for cooking steaks. (Again the handle will be hot, so use an oven mitt to transfer).
The exact cook times will vary depending on how you like your meat.  I opt for medium rare but I know many prefer steaks more medium.  Personally I think that eating a steak any more well done than that is a sin but I'll leave it to you =)  If you're a newbie to cooking, you may find it helpful to use a meat thermometer (such as this Kizen Meat Instant Read Thermometer) to ensure it's the right temperature for your desired level of doneness.
When your steak is finished cooking, remove it from the grill, oven, or pan and allow it to rest for at least 5 minutes prior to serving.  Allowing the steak to set for a few minutes will retain the juices in the steak when you slice into it.
Last but not least, top off your steak with a slab of butter and you're ready to enjoy your Keto Ribeye. Then just follow the additional steps below to prepare your Broccoli and Cheese side! 
I hope you enjoy this recipe as much as I do!   If you'd like to check out my other Keto recipes, take a look at my Recipe Archive or join us on Facebook at Facebook.com/KetoHealing.
Don't have time to prep a full meal but looking for snack ideas?  Check out my 28 Easy Keto Snacks on the Go post.
Broccoli and Cheese Side
November 21, 2019
: 2
: Easy
Ingredients
2 Cups of Broccoli (Or multiply for more servings)
2 Tbsp of Butter
2 Tbsp of Cream Cheese
2 Tbsp of Sour Cream
2 Tbsp. of Shredded Sharp Cheddar Cheese (or more if you prefer extra cheese!)
1/8 tsp of salt
1/8 tsp of garlic powder
Pinch of pepper
Directions
Step 1 Chop the broccoli into bite-size pieces.
Step 2 Melt the butter in a skillet on Medium High heat on your stove. Add the broccoli to pan and season with salt, pepper, and garlic powder.
Step 3 Sauté the broccoli for approximately 3-4 minutes, tossing regularly, until the broccoli starts to brown.
Step 4 Add cream cheese, sour cream, and cheddar cheese to the pan then cover with a lid. Reduce heat to Medium-Low.
Step 5 Continue cooking for an additional 3 minutes, tossing broccoli briefly about once a minute, until the cheeses have melted. Toss until cheese is evenly blended.
Step 6 Remove your broccoli from the stove and enjoy!
Can't remember all the Keto rules?  Our one-of-a-kind Keto Cheat Sheets have EVERYTHING you need to know to help you get started.  Available in limited quantities at KetoHealing's Etsy Shop.    Conveniently sized to display right on your refrigerator door.
You may also love our Keto Diet Printable Bundle Pack featuring our Keto best sellers, available as instant digital downloads exclusively at KetoHealing's Etsy Shop.
Need help getting started on Keto?  Take a look at our How to Get Into Ketosis post for getting started tips, grocery lists, easy meal planning and more!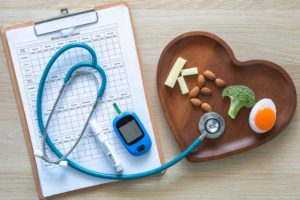 Enjoy KetoHealing? Join us on social media!!