While we all know that traditional rice is a strict avoid for the Keto diet, this Keto Fried Rice is prepared using cauliflower making it a perfect low-carb substitute for a Chinese-style dinner.  I generally find cauliflower a bit bland, and attempts to make cauliflower as mashed potato substitutes or pizza crust substitutes have generally left me feeling disappointed with the results.  But this cauliflower fried rice is surprisingly tasty, very low carb, and of course extremely healthy!  You won't miss the grains at all.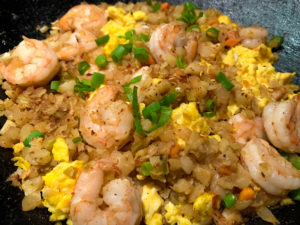 I find this Keto fried rice pairs great with some grilled Shrimp, but feel free to make this with the protein of your choice.  Also included in this Keto cauliflower fried recipe are eggs, scallions, onions, celery,  garlic, ginger, gluten free soy sauce and toasted sesame oil.  If you're avoiding soy for whatever reason (a personal choice for some on strict keto), you can use coconut liquid aminos as a substitute…the choice is yours!
For the cauliflower, you can either take a head of cauliflower and pulse it into rice-sized pieces using your food processor (THIS is the one I use), or use a basic grater.
And then there's the third and easiest option – you can buy fresh riced cauliflower from your grocery store, usually sold in 14 oz packages.  This option comes at a heftier priced tag compared to making the rice yourself, but it's a time saver and a great option for those without the necessary kitchen tools at home.
I used my favorite wok to toss together this recipe. Alternatively, an oversized pan can also be used if you don't own a wok.  The great thing about a good-quality cast iron wok is that it gets nice and hot, which will help give your cauliflower rice the right touch of crispiness.
Just follow the remaining easy steps below to make your Keto Fried Rice!  Note the below quantity will make about 4 servings.
Keto Fried Rice
February 6, 2020
: 4
: Easy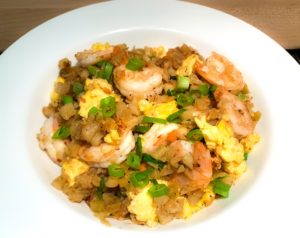 Ingredients
1 pound of shrimp, (peeled, thawed)
14-16 oz cauliflower (1 bag, riced)
2 large eggs
3 scallions, sliced thinly
1/4 cup of gluten-free soy sauce
1/2 small white onion, chopped
2 garlic cloves, chopped
1 Tbsp of Sesame Oil
1 Tbsp of Olive Oil
1 tsp of Ginger, chopped
1 tsp of Salt, divided.
Sriracha, optional
Directions
Step 1 Pre-heat a large wok and season it with olive oil.
Step 2 Beat the eggs, season with 1/4 tsp. of salt and pepper, then scramble them in a pan on medium heat. Set aside once cooked.
Step 3 Season your shrimp with the remaining salt and saute them in the wok until fully cooked (about 90 seconds or so one each side), until they turn pink and opaque. Set aside once cooked.
Step 4 Next add your chopped onion, chopped garlic, and ginger to the wok and saute on medium/high heat, until onions soften and become transparent (about 2-3 mins).
Step 5 Combine your cauliflower and toss with your garlic/onions, and cook an additional 7-10 minutes. Stir occasionally – not constantly, allowing the rice to set a couple minutes at a time will help give it a slightly brown/crispy texture.
Step 6 Add in your scrambled eggs, grilled shrimp, and chopped scallions. Then drizzle your soy sauce and sesame oil on top and toss evenly until all the ingredients are warm.
Step 7 Remove your Keto cauliflower fried rice from the stove and serve!
Interested in more easy Keto recipe ideas?  Take a look at my Recipes page.  Follow us at Facebook.com/KetoHealing so you don't miss out on our latest recipes.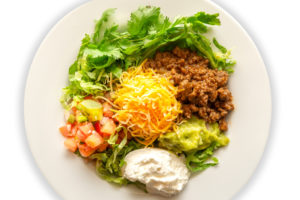 Can't remember all the Keto rules?  Ours Keto cheat sheets have EVERYTHING you need to know, now available HERE on Amazon.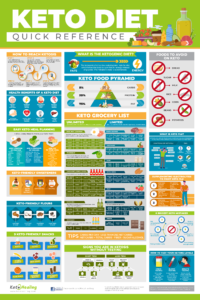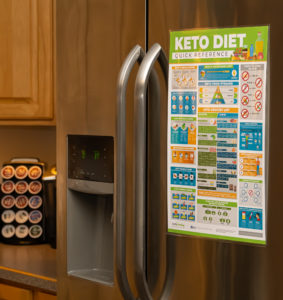 Need help getting started on Keto?  Take a look at my How to Get Into Ketosis post for getting started tips, grocery lists, easy meal planning and more!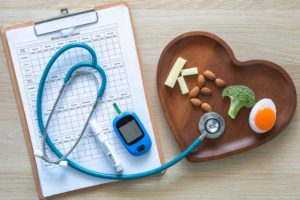 Enjoy KetoHealing? Join us on social media!!