These Keto Blueberry 'Chaffles' are a delicious way to mix up your Keto breakfast routine, for those who want to stick to their low carb regimen yet miss those good 'ole Blueberry Eggos.  No need to cheat on your diet when you can make our Keto Blueberry Chaffles in minutes!
What exactly is a 'Chaffle'? The Chaffle gets its name by merging the words 'cheese' and 'waffle'. It resembles a normal waffle except without all the carbs, making it a great low-carb alternative for those following the ketogenic diet. Keto dieters prepare Chaffles for all sorts of recipes from tasty sandwiches to desserts. 
Our Keto Blueberry Chaffles consists of the basic ingredients of a regular Chaffle (egg, cheese, etc.) with a few extra flavors added in:  a hint of vanilla, a touch of cinnamon, and of course the star of the plate..the blueberries! Top off your Keto Blueberry Waffles with a little whipped cream, and you'll find you don't really need much sweetener to make these waffles delicious.
Blueberries, as with all other berries on Keto, must be eaten in moderation on Keto so your best bet is to measure out the quantity before including them in your dish.  I used a food scale and measured out 35 grams of blueberries (approx. 20 blueberries) which came out to 4.25 Net Carbs (for the blueberries only, excluding the Chaffle).  This is a hearty breakfast or lunch which will keep you satisfied for hours, so you should have no issues staying under your Net Carb goals if you plan your other meals properly.
If you don't already have a food scale you can purchase one here. I highly recommend getting one as it's a tiny investment that will take out a lot of the guesswork of tracking your daily net carbs.  You can use an app like CarbManager to plug in the exact weight of the food you're cooking, and it will provide you the exact Net Carb count for that quantity.
To cook your Chaffles, you will also need a Mini Waffle Maker.  If you don't already have one, you can get yours on Amazon now by clicking right here.
Give these Keto Blueberry Chaffles a try, and please share with others on social media if you like it =)
Keto Blueberry Chaffles
October 28, 2019
: 1-2
: Easy
Ingredients
One Large Egg
1/2 Cup Shredded Mozzarella Cheese
1 Tbsp. Almond Flour
1/4 Tsp. Baking Powder
1/2 Tsp. Cinnamon
1 Tsp. Erythritol (or equivalent Keto sugar sweetener of your choice)
1/2 Tsp. Vanilla Extract
1/3 cup Blueberries (equivalent to 35 grams)
Whipped Cream (Optional)
Directions
Step 1 Preheat the mini Waffle maker.
Step 2 Crack the egg into a small bowl and mix with 1/2 cup mozzarella, almond flour, and baking power, cinnamon, vanilla extract, and sweetener. Blend until mixed evenly.
Step 3 Pour 1/2 the mix into the pre-heated Chaffle maker and top with 5-6 blueberries. Allow to cook for 3-4 minutes (depending on how crispy you prefer your Chaffles).
Step 4 Remove the first Chaffle and repeat by pouring the other half of the mix into your Chaffle maker (setting another 5-6 blueberries on top) and cooking for 3-4 minutes.
Step 5 Remove your second Chaffle and unplug the waffle maker.
Step 6 If you're topping the Chaffles with whipped cream, allow to cool for a couple minutes before adding the topping.
Step 7 Your Keto Blueberry Chaffles are ready to serve…Enjoy!
Interested in more easy Keto recipe ideas?  Take a look at my Recipes page.  Follow us at Facebook.com/KetoHealing so you don't miss out on our latest recipes.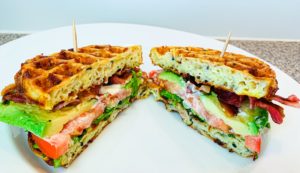 Can't remember all the Keto rules?  Our one-of-a-kind Keto Cheat Sheets have EVERYTHING you need to know.  Now Available for sale on Amazon and Etsy.    
Can't remember your fave Chaffle recipes?  Our Printable Keto Chaffle Recipe List is now available as a Digital Download on Etsy to print/display on your fridge.
Need help getting started on Keto?  Take a look at my How to Get Into Ketosis post for getting started tips, grocery lists, easy meal planning and more!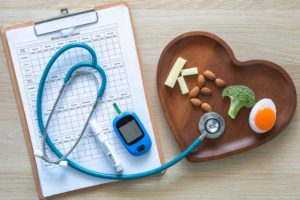 Enjoy KetoHealing? Join us on social media!!