This Keto Eggroll in a Bowl is a super easy dinner bringing together all the awesome flavors of an egg roll but without any of the guilt!  This meal is not only low carb and keto-approved, but it's also super easy to prepare in under 20 minutes.  What I liked best about this recipe is it's something you can either prepare for the entire family, or if you're eating for one, it also tastes amazing as leftovers the following day.  Full disclosure,  I can't take credit for this genius idea – I've heard about the Kego Eggroll in a Bowl in various Keto forums and finally decided to try it myself.
There are multiple variations of this recipe and you can use the meat of your choice: ground beef, pork, turkey, or even chicken.  I opted for pork and kept the dish relatively simple.  I totally planned to add an egg, but forgot (whoops!) so I might try that variation next time around.  The cabbage you can purchase as an unprepared Cole slaw mix (such as this one).  Yes, there are some shredded carrots in the mix which do have carbs but there are very few in a 16 oz pack so you'll stay well within your Keto macros for this meal.
I know some on strict Keto may choose to avoid soy sauce.  I used this gluten free soy sauce but if you're avoiding soy altogether you can definitely substitute it with liquid coconut aminos if you prefer.
I topped off my Keto Eggroll in a Bowl with some sriracha sauce because I love my meals with a little kick.  Just follow the easy steps below for the rest – I hope you enjoy your Keto Eggroll in a Bowl as much as I did!
Keto Eggroll in a Bowl
December 21, 2019
: 4
: Easy
Ingredients
16 OZ prepackaged shredded cabbage slaw
16 oz ground pork or beef
1/4 Cup of Gluten Free Soy Sauce* (Gluten free or sub Liquid Coconut Aminos if you prefer)
1 Tbsp Toasted Sesame Oil
2 Green Onions
1 Tbsp. of butter
1 tsp. Ginger minced
1 tsp Garlic crushed
½ tsp. salt to taste
¼ tsp. pepper to taste
Sriracha (optional)
Directions
Step 1 Melt the butter in a skillet, then add the ground pork (or meat of your choice).
Step 2 Crumble ground pork in the hot skillet then add the minced ginger, crushed garlic, salt and pepper.
Step 3 Stir frequently and continue to sauté on medium heat until meat is browned throughout, approx. 8 minutes.
Step 4 Drain and discard any excess grease.
Step 5 Return to stove and add the shredded cabbage mix, soy sauce (or substitute), and sesame oil. Sauté for an additional 5 minutes until the cabbage is tender. Top with sliced green onions (sliced thinly) before serving.
Interested in more easy Keto recipe ideas?  Take a look at my Recipes page.  Follow us at Facebook.com/KetoHealing so you don't miss out on our latest recipes.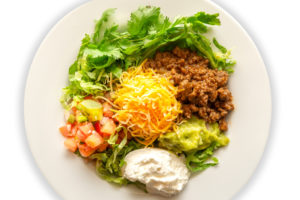 Can't remember all the Keto rules?  Our one-of-a-kind Keto Cheat Sheets have EVERYTHING you need to know to help you get started.  Now Available for sale on Amazon and at KetoHealing's Etsy Shop.    Conveniently sized to display right on your refrigerator door.
Need help getting started on Keto?  Take a look at my How to Get Into Ketosis post for getting started tips, grocery lists, easy meal planning and more!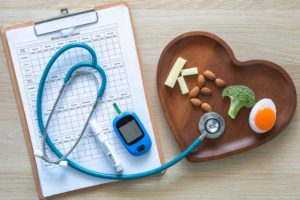 Enjoy KetoHealing? Join us on social media!!