This Keto Eggplant Parmesan recipe is the the perfect comfort food that will satisfy the entire family while keeping you in ketosis!  
Eggplant is high in fiber with only 2 Net carbs per cup, which means eggplant fits nicely into a Keto or Low Carb diet.  Not only that but eggplants are also extremely nutritious – they're high in antioxidants, may help reduce heart disease, can promote lower blood sugar levels, and have cancer fighting benefits, among other benefits! 
This dish takes some time to prepare, so I recommend setting aside at least an hour and a half for both prep and cook time.  That said, one large eggplant goes a long way so this dish will feed a family or leave you with plenty of leftovers if you're cooking for one.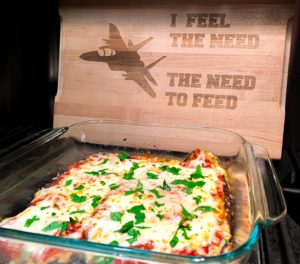 The secret gem to this recipe is to use Pork Panko Bread Crumbs as a Keto substitute for regular breadcrumbs.  These are essentially pork rinds grinded into what resembles a breadcrumb texture, without any of the carbs of traditional bread!  You can get those Pork Panko Bread Crumbs right HERE on Amazon if your local grocery store doesn't sell them.  
Aside from a large eggplant and Pork Panko Bread Crumbs you'll also need:
An oven-safe baking pan (such as this Pyrex one- available HERE on Amazon)
A Low-carb marinara sauce (I'm a big fan of Rao's which you can find HERE on Amazon)

Large egg

Mozzarella cheese

Parmesan cheese

Italian seasoning

Salt

Parsley
Just follow the remaining steps below to prep your Keto Eggplant Parmesan – I hope you enjoy this dish as much as I did!  [Note:  The below recipe makes 4 servings;  approx. 10 g Net Carbs per serving].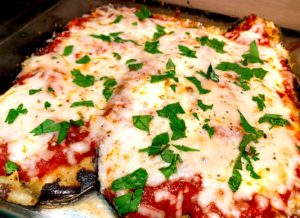 Keto Eggplant Parmesan Recipe
February 13, 2020
: 4
: Medium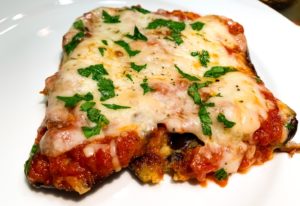 Ingredients
1 Large Eggplant
1 Cup of Pork Panko Breadcrumbs
1 Cup Rao's Marinara Sauce
1 Large egg
1/2 Cup of Parmesan Cheese
1 Cup of Mozzarella cheese
1/2 Tsp of Italian seasoning
1/2 Tsp of Garlic Powder
1 Tsp of Kosher Salt
1/2 Tsp of Butter
1 Tbsp of Chopped Parsley (Optional as Garnish)
Directions
Step 1 Slice the eggplant into slices approximately 1/4 inches thick. Salt BOTH sides of each eggplant slice generously then allow to sit for about 30 minutes. This will cause the eggplant to start to 'sweat' and you'll see beads of water forming on top.
Step 2 After the 30 minutes is up, pat both sides of the eggplant dry with a paper towel. This step is important to remove all the excess water from the eggplant before you fry it.
Step 3 Next you'll need to batter the eggplant. Take a large egg and beat it until the yolk is blended.
Step 4 In a separate bowl, combine your 1 cup of Panko bread crumbs, your parmesan cheese, garlic powder, and Italian seasoning.
Step 5 Coat each slice of eggplant throughly by dipping in the egg first, followed by the bread crumb mix. You can either use two dishes, or alternatively use a couple ziplock bags and toss until coated.
Step 6 Preheat a large pan to Medium heat and add your olive oil. (Note: Do not use high heat, as I tried this way the first time and ended up burning them!) Add your battered eggplant to the preheated pan, avoiding any overlap.
Step 7 Fry the eggplant until golden brown on each side, approximately 4 four minutes per side. Remove your eggplant and repeat until all of your slices are fried.
Step 8 Preheat your oven to 400 degrees. Grease your oven dish with butter. Then layer your fried eggplant, marinara sauce, and mozzarella cheese.
Step 9 Bake for 10-15 minutes until cheese is melted then remove from oven.
Step 10 Sprinkle with chopped parsley as optional garnish and allow to cool before serving. Enjoy!
Interested in more easy Keto recipe ideas?  Take a look at my Recipes page.  Follow us at Facebook.com/KetoHealing so you don't miss out on our latest recipes.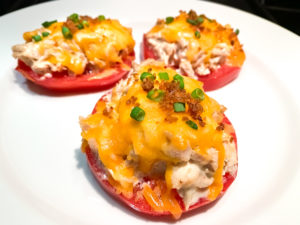 Can't remember all the Keto rules?  Our one-of-a-kind Keto Cheat sheets have EVERYTHING you need to know.  Now Available for sale on Amazon and Etsy.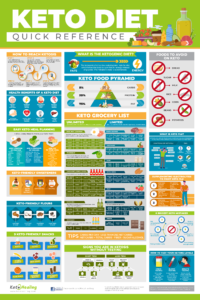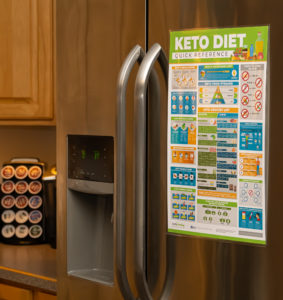 Know someone who needs help getting started on Keto?  Send them a link to my How to Get Into Ketosis post for FREE getting started tips, grocery lists, easy meal planning and more!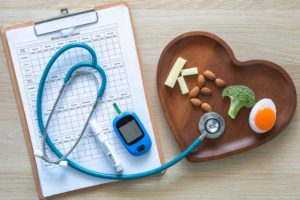 Enjoy KetoHealing? Join us on social media!!