This Keto Chicken Enchilada Casserole is extremely delicious, easy to make, and will be something the entire family can enjoy (whether or not they follow a Keto diet)!
I love Mexican food and usually honor Taco Tuesday by making Beef Taco Salads or Taco Stuffed Peppers like these (Click HERE for recipes).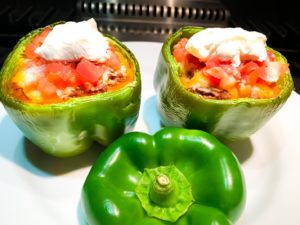 But this week I was roaming the grocery store and stumbled across a packet of Enchilada sauce in the International aisle so I decided to mix things up.  Enchiladas are traditionally made with flour tortillas, but this casserole leverages all the tasty flavors of a Mexican dish while skipping the tortillas altogether.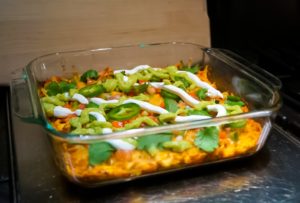 The chicken enchilada casserole can be eaten with a fork or scooped up with a side of Keto chips.  I munched on this casserole with my favorite Quest Taco Chips, while my husband (who's not Keto) dove in with regular corn tortilla chips.  Another Keto meal win for both of us without the need to compromise! [Sidenote: Admittedly, the chips are extremely pricy but they are amazing as an occasional treat.]
For the chicken, I decided to purchase a regular rotisserie chicken from the grocery store and shredded it to make the pulled chicken. You could absolutely cook your own chicken, but for anyone else looking to save time, I  find this to be the best bet.
For the enchilada sauce, you have a couple options:
I picked up this Frontera Red Chili Enchilada Sauce from my local grocery store (also available on Amazon

HERE

).

 

Yes it does have 2g of carbs (including a small amount of added sugar), but it should fit well within your macros and is acceptable for what some on social media like to call 'dirty' keto or a standard low carb diet.

 

I had no problem eating a serving and remaining in ketosis.
Alternatively, if you're 'strict' keto, you'll likely want to refrain from pre-made enchilada sauces as you'll find most have either corn starch or sugar as an ingredient.

 

In that case, you can make your own enchilada sauce using a recipe like this one:

https://kicking-carbs.com/keto-enchilada-sauce/

.

   
And now for the fun part, all the toppings!  First and foremost, your Chicken Enchilada Casserole won't be complete without a generous helping of Mexican Blend or Taco shredded cheese.   
I also topped off my casserole with some cilantro, pico de gallo mix, guacamole, sour cream, and jalapeños.  The exact toppings are really up to you here!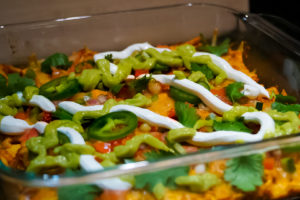 Just follow the remaining steps below to prep your Keto Chicken Enchilada Casserole and enjoy!
Keto Chicken Enchilada Casserole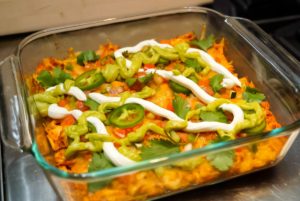 Ingredients
1 Small/Medium sized rotisserie chicken, shredded
8 oz packet of Frontera Red Chili Enchilada Sauce
1 Cup of Shredded Taco (or Mexican Blend) Cheese Mix
1/4 Cup of Pico de Gallo mix
1 Jalapeño, sliced thinly
2 Tbsp. Sour Cream, as topping
2 Tbsp. Guacamole, as topping
Cilantro to taste, as topping
Directions
Step 1 Preheat oven to 375 degrees.
Step 2 Add a little sauce to the bottom of your casserole dish, then add all of your pulled chicken, followed by the remaining sauce.
Step 3 Stir in enchilada sauce until mixed throughout.
Step 4 Cover chicken with a generous layer of taco cheese
Step 5 Bake in oven for 20-25 minutes uncovered, until cheese has melted.
Step 6 Remove from oven and add your remaining toppings – pico de gallo, jalapeño slices, sour cream, guacamole and cilantro (or the alternate toppings of your choice)! Serve warm!
Interested in more FREE Keto recipes?  Browse our selection of Recipes HERE.  Follow us at Facebook.com/KetoHealing to receive notifications on our latest recipes.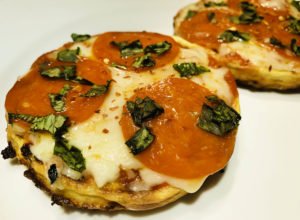 Can't remember all the Keto rules?  Ours Keto cheat sheets have EVERYTHING you need to know.  Now available HERE on Amazon.
Need help getting started on Keto?  Take a look at my How to Get Into Ketosis post for FREE getting started tips, grocery lists, easy meal planning and more!  Perfect to share with anyone getting started on a Keto or Low Carb diet.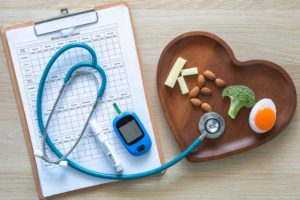 Enjoy KetoHealing? Join us on social media!!