This Keto Pizza Omelette will be your new breakfast fave!
Eggs are definitely a food staple for me on the Keto diet but eggs for breakfast can get boring pretty quickly.  I seem to be one of the only Keto dieters left on earth that hasn't splurged on a Mini Waffle Maker (ok admittedly, I tried, but Amazon was sold-out last time I checked)!  So instead I've started experimenting with new omelettes as a breakfast alternative.    [Update:  I've since bought a Mini Waffle Maker so Omelettes are quickly being replaced with Chaffles =)]
Well this one hit the spot!  This Keto pizza omelette is a fun way to mix up your breakfast routine, or as the perfect breakfast for dinner option.  It's super simple, and it only takes a few minutes to make.  Totally keto-friendly and it will satisfy your craving for pizza without having to spend any time making a low-carb dough!
I hope you enjoy this Keto pizza omelette! 
Keto Pepperoni Pizza Omelette
October 10, 2019
: 1
: Easy
Ingredients
3 large eggs
2 Tbsp heavy whipping cream
1 Tbsp of butter
1/2 cup of mozzarella cheese
1/4 cup of pizza sauce (find a brand with zero added sugar)
10-12 slices of pepperoni
1/8 tsp. Salt
1/8 tsp. Onion Powder
Pinch of Pepper
Basil flakes (Optional)
Crushed Red Pepper (Optional)
Directions
Step 1 Whisk together three eggs into a small bowl with a fork until blended, then stir in heavy whipping cream, salt, onion powder, and pepper.
Step 2 Melt butter in 7-10 inch skillet on Medium heat, evenly coating the bottom. Then pour the egg mixture into the skillet.
Step 3 Immediately tilt the pan so the egg mixture spreads evenly and coats the entire bottom of the pan. The eggs should sizzle upon contact.
Step 4 As the eggs begin to set, use a spatula to gently push the uncooked eggs towards the center of the pan. Tilt the skillet so that the uncooked eggs flow into the open spaces.
Step 5 Cook the omelette for 1 to 2 minutes. When the egg is set, the top of the omelette should still look a bit wet, but there will no longer be any loose, flowing egg when you tilt the pan.
Step 6 Top half of the omelette with your fillings: add the pizza sauce, shredded mozzarella cheese, and pepperonis.
Step 7 Fold the omelette in half using a spatula and continue to cook for another minute.
Step 8 Tilt the pan and gently slide the omelette onto your plate. Garnish with spices based on your preference. I used basil and hot pepper flakes but thee are completely optional.
Interested in more easy Keto recipe ideas?  Take a look at my Recipes page.  Follow us at Facebook.com/KetoHealing so you don't miss out on our latest recipes.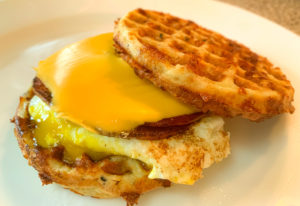 Can't remember all the Keto rules?  This Keto cheat sheet has EVERYTHING you need to know.  Get yours now at KetoHealing's Etsy Shop.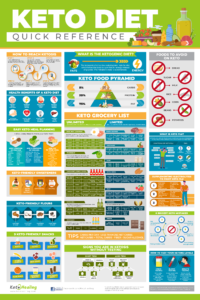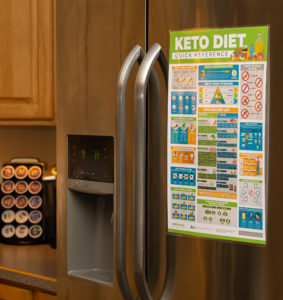 Need some more inspiration?  You'll love these motivation prints at KetoHealing's Etsy Shop!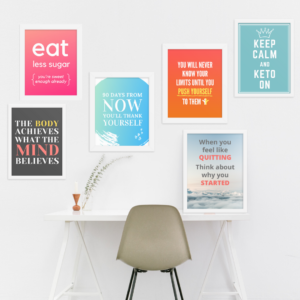 Want to model your Before & After Keto photos in style?  Check out these t-shirts at KetoHealing's Etsy Shop.  Available in multiple sizes and colors.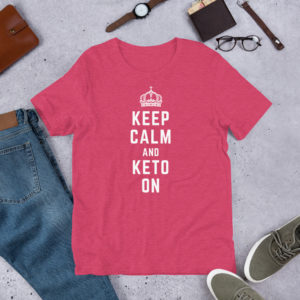 .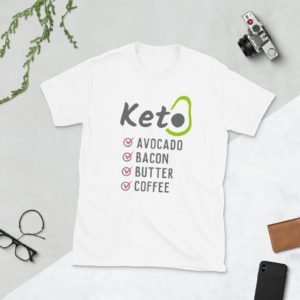 Need help getting started on Keto?  Take a look at my How to Get Into Ketosis post for getting started tips, grocery lists, easy meal planning and more!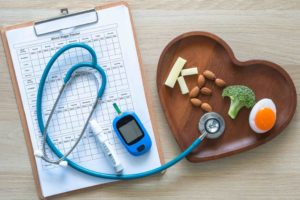 No time to prep a meal?  See below for some easy snacks or refer to my 28 Easy Keto Snacks on the Go post for more ideas.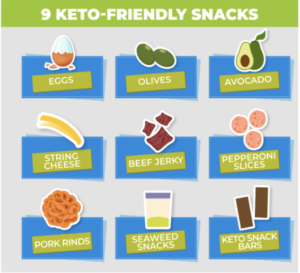 Enjoy KetoHealing? Join us on social media!!