The Caprese salad is a perfect Keto friendly appetizer option for anyone following a Keto or Low Carb diet. 
Caprese salads are so simple to make – and they don't require much modifications to fit into your low carb lifestyle (as long as you skip the balsamic glaze!).  This dish can be eaten as a standalone lunch or as an appetizer option alongside your meal.
This delicious salad consists of layering alternating slices of fresh mozzarella (approximately 1/4 in thick), a ripe tomato and fresh basil. As the final touch, sprinkle a bit of salt/pepper and then drizzle some olive oil on top for flavor.
And it's as simple as that!  This Caprese Salad is extremely tasty and vibrant – making it a perfect family appetizer or party dish, without any effort!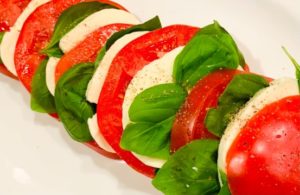 New to Keto?  We recommend our readers check our our FREE ULTIMATE Keto Getting Started Guide to help you out.   It's the perfect resource for you or to share with any family / friends who may be interested in Keto but don't know where to start!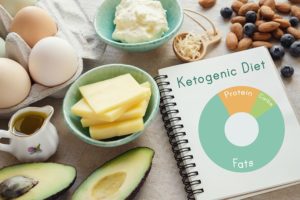 Enjoy KetoHealing? Join us on social media!!