This Big Mac in a bowl has instantly become a fave household meal!
 

The perks – it's delicious, affordable, and super easy to make.

Admittedly I'd seen occasional pics of similar recipes scattered across social media throughout my Keto journey, but it struck me as one of those meals that looked/sounded better than it is in reality.  How could it possibly live up to a traditional Big Mac? Well I was wrong!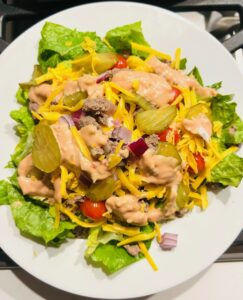 To start off, you'll need some ground beef. I prefer the 80% fat/20% lean variety to get some fat intake and also organic/grass-fed if your budget can support it.  Grass fed beef is higher in nutrients compared with traditional beef from grain fed cows including greater quantities of B vitamins, Vitamin A, E and other antioxidants, plus a richer amount of Omega-3 fatty acids.
That said, produce costs including meat prices have sky-rocketed in the last few months (not to mention supply chain shortages!) so I'm increasingly deciding to forgo the preferred grass-fed beef option. The choice is yours!
Now aside from the beef, what else will you need?  Some tomatoes (I went with cherry tomatoes), an onion (I went with purple for the vibrant color but yellow works too and stays authentic to its Big Mac roots), some romaine lettuce, shredded cheddar cheese, sliced dill pickles, and then a few condiments to make your Big Mac sauce.  I stumbled across a no-sugar-added brand of Heinz ketchup which worked perfectly for this recipe blended with some mayonnaise, dill pickle relish, mustard, vinegar, onion powder, and paprika. 
If you don't have this No-sugar Ketchup available in your local stores you can find it HERE on Amazon. 

That's all you'll need along with 10-15 minutes to cook the beef and prep your ingredients.  Now go ahead and enjoy those Big Macs, everyone!
Keto Big Mac in a Bowl
February 13, 2022
: 4
: Easy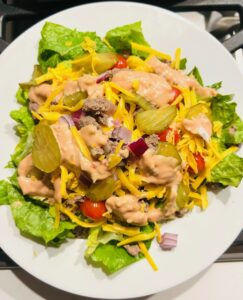 Ingredients
For the Salad:
1 pound ground beef
1/2 teaspoon salt
1/4 teaspoon pepper
1/4 teaspoon onion powder
1/4 teaspoon garlic powder
6 cups chopped romaine
1 cup shredded cheddar
1 cup of cherry tomatoes, sliced in half
1/2 cup diced onions
1/2 cup sliced dill pickles
Big Mac Sauce:
1/2 cup mayonnaise
2 tablespoons sugar free ketchup
2 tablespoons dill relish
2 teaspoons mustard
2 teaspoons distilled white vinegar
1/2 teaspoon onion powder
1/2 teaspoon paprika
Directions
Step 1

Add the beef to a large skillet over medium heat and break the meat up as it cooks. Once the beef is cooked through, drain the excess liquid.

Step 2

Season your beef with the salt, pepper, onion powder, and garlic powder and stir.

Step 3

Chop up the romaine lettuce and divide evenly across your Big Mac salad bowls.

Step 4

Add your toppings to each bowl – the ground beef, shredded cheddar, onions, and pickles.

Step 5

To make the Big Mac sauce, whisk together all of the ingredients until blended evenly throughout.

Step 6

Drizzle your big mac sauce over each salad
Can't remember all the Keto rules?  Our one-of-a-kind Keto Cheat Sheets have EVERYTHING you need to know to help you get started.  Now available for sale exclusively at KetoHealing's Etsy Shop.    Conveniently sized to display right on your refrigerator door.
Need help getting started on Keto?  Take a look at my How to Get Into Ketosis post for FREE getting started tips, grocery lists, easy meal planning and more!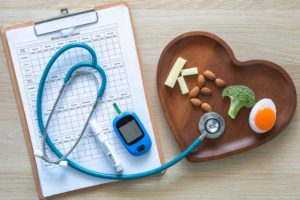 Enjoy KetoHealing? Join us on social media!!