The first few weeks I started keto, I had what seemed like CONSTANT hunger cravings as my body adapted from burning glucose to burning ketones.  My blood sugar levels were on a rollercoaster ride, and while I had started tracking my carbs, I still hadn't gotten it right.  I was in ketosis but not fat-adapted, and I felt extremely hungry – all the time!!  I was  prepared with meal prep at home, but as soon as I left the house or travelled, I often found myself in a panic to find an easy keto snack. 
Since then, I've identified my Go-to Keto Snacks which has helped make it easy to remain committed to the diet.  Most of these you may find at your local grocery store, but if not I've included links to pick them up on Amazon.
(Keto Savings Tip:  Let's face it.  Keto can be pricy when you begin and every extra cent counts! For those who don't already use Rakuten (formerly known as 'Ebates'), they regularly run promotions to obtain Cash Back for online shopping not only at Amazon but other retailers that sell Keto foods and products such as Target and Vitamin Shoppe.  I'm a member myself and recommend others take advantage of these savings too (Just click here to sign up).
And with that, here are my Top 8 Go-to Keto Bites on the Go:
1) Moon Cheeses – The first time I saw these, they were at Starbucks and at $5 a bag I was sorry I found them.  They're addictive but also satisfying – with a similar taste to Cheeze-its but without the Carbs. Fortunately, Amazon sells them for cheaper.
2) Whisps – Ok so #1 was cheese, and ranking in just below as my #2 Keto snack is ALSO CHEESE:  Whisps!   I love dipping Whisps in cream cheese or whatever flavored dip is around that requires a chip alternative.  Costco carries these but you can get the best flavor variaties on Amazon.
3) Pork Rinds – It was hard for me to accept the funky smell of these initially, but I quickly warmed up to them as a nice salty / keto-friendly go-to snack.  
4) Keto Cups – Extremely satisfying, this snack is the perfect fat bomb for Keto dieters.  Try the coffee flavor – highly recommended!
5) Roasted & Salted Almonds – Another great snack which is high in potassium and salt, both of which are electrolytes that are critical when you're on keto.   
6) Beef Jerky – With a great balance of fat and an adequate amount of protein, beef jerky is a must-have snack to keep on hand.
7) Keto Bars – The perfect balance of fat, protein and carbs in a convenient snack bar – available in coconut, peanut butter, and chocolate cookie dough.
8) Seaweed Snacks – A light snack with a salty crunch; this seaweed snack will replenish your electrolyte needs.
Update 10/31/19:  Because this post ''8 Easy Keto Snacks on the Go' was such a hit, I've decided to up the stakes.   Clearly, the Keto community deserves more than just 8 easy snacks.  So if you're interested in reading more, take a look at my new and improved blog post: 28 Easy Keto Snacks on the Go.
Hope you enjoy trying these out!  What other Keto snacks are your go-to?
Interested in easy Keto recipe ideas?  Take a look at my Recipes page.  Follow us at Facebook.com/KetoHealing so you don't miss out on our latest recipes.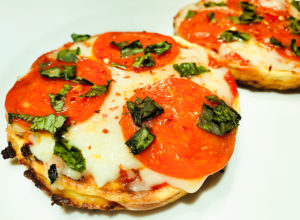 Can't remember all the Keto rules?  This Keto cheat sheet has EVERYTHING you need to know.  Get yours now at KetoHealing's Etsy Shop.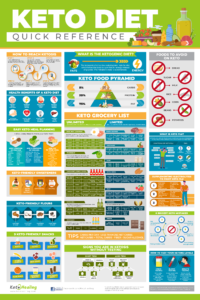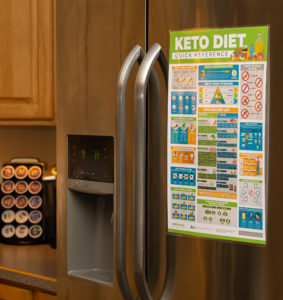 Want to model your Before & After Keto photos in style?  Check out these t-shirts at KetoHealing's Etsy Shop.  Available in multiple sizes and colors.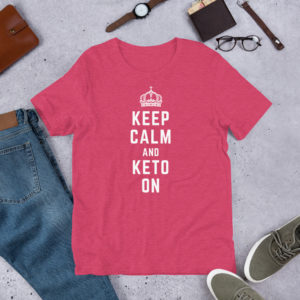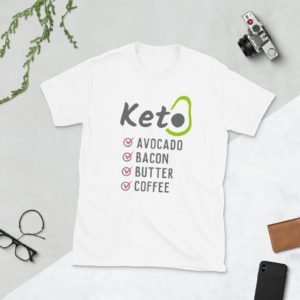 No time to prep a meal?  See below for some easy snacks or refer to my 28 Easy Keto Snacks on the Go post for more ideas.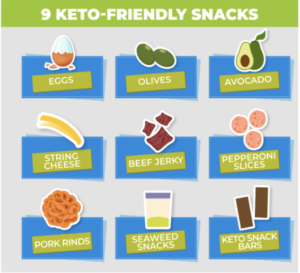 Need help getting started on Keto?  Take a look at my How to Get Into Ketosis post for getting started tips, grocery lists, easy meal planning and more!